The Winning Formula!
How Marketshare & SummerHill Homes Won Gold
Marketshare Inc., together with SummerHill Homes won the National's Gold Award for Nuevo, a spectacular sales studio in Santa Clara, CA.
The Nationals Awards, the most prestigious awards competition held by the National Association of Home Builder's (NAHB), took place on January 21, 2020 at the Nationals Gala in Las Vegas, in conjunction with The International Builders Show. The Nationals Awards recognize the best new home sales and marketing nationwide.

"Nuevo is located in Santa Clara and consists of for sale and for rent homes - as well as outdoor parks, retail and dining. We call Nuevo a New Urban Town; which really translates to an Urban master plan. Our three, "for sale" products are located throughout the community, so we decided to anchor our sales activity in a triple wide trailer which is centrally located within the community." explained Tad Holland, SummerHill Homes Marketing Director for Nuevo.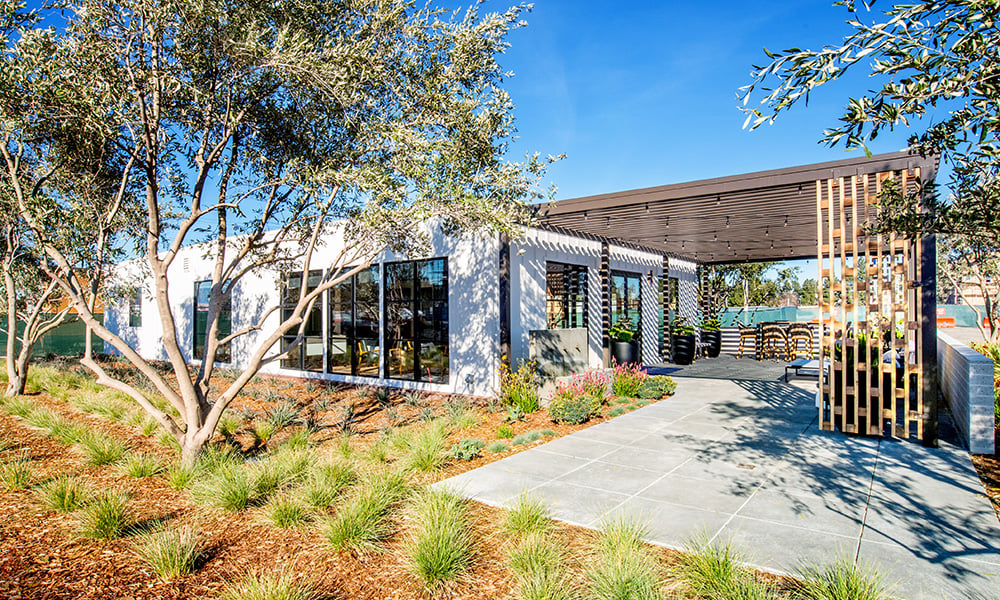 Why did Nuevo win The National's Gold Award for best Sales/Leasing Center? Marketshare's designers for Nuevo, Vickie Bergstrom and Nick Millsap, believe Nuevo's Gold was based upon three major factors: collaboration, innovation, and immersive design. Tad, Vickie, and Nick elaborate:
COLLABORATION
Vickie: First, we are beyond thrilled that Nuevo was recognized nationwide. I know a big part of why Nuevo won the National's Gold Award was Tad's willingness to trust Marketshare's design-and-build expertise which allowed us to successfully collaborate with her and SummerHill Homes. Tad not only has a wonderful ability to see outside the box but worked with Marketshare to implement new and innovative ideas. So Nuevo was a joint effort. Tad gave us reign to do what we do best and added great ideas that we incorporated.

INNOVATION
Tad: We took a risk by placing our sales studio in the center of a huge construction site, versus what we usually do... which is to locate the sales studio on the main road. We believe the location and design of the Nuevo Sales Studio allowed visitors to feel and understand the entire community, and all three unique collections.
Vickie: I always love to push design limits and do something different with each new sales center, but that isn't always an option. When designing Nuevo, Tad was willing and able to take creative risks. We focused on quality over quantity by using great products and materials in new and innovative ways. For instance, in the photo below, note the gorgeous overhead light. It actually mimics an Elizabethan collar. Imported from France, it was the first of its kind in the United States. The light unifies the space and helps to emphasize the organic, flowing nature of the studio. The custom tables below mimic the curves of the light and allow for ease of traffic flow.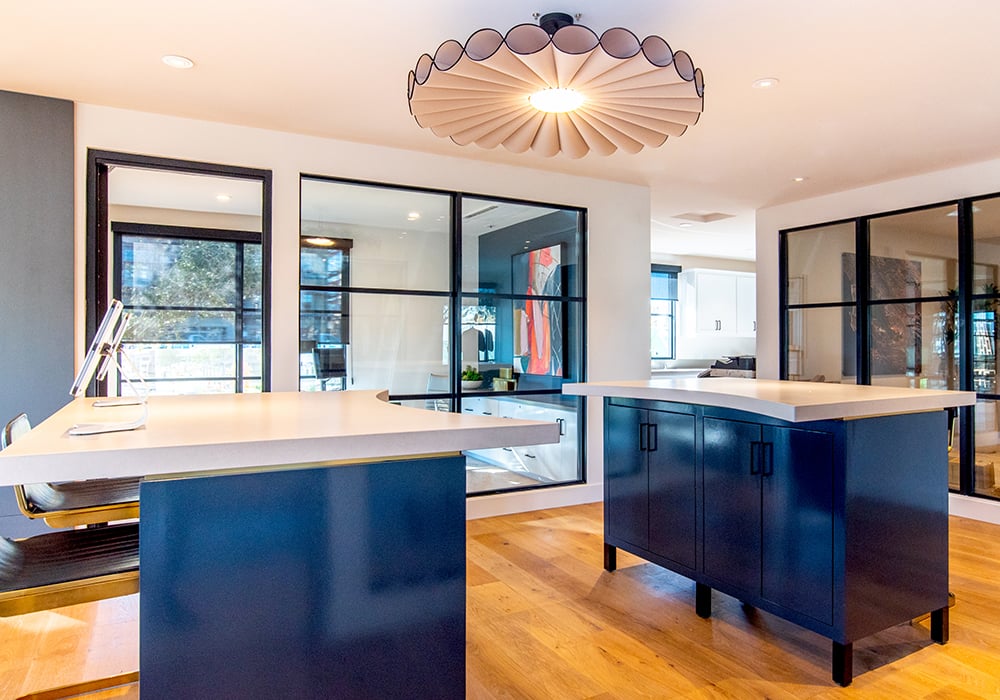 IMMERSIVE DESIGN
Nick: With copious amounts of natural light flowing into the sales studio, we had the unique opportunity to employ a variety of textures and colors in efforts to create an immersive experience upon entering. Because the space feels expansive, we worked to prevent overstimulation by anchoring the space with architectural symmetry, minimal furnishings with soft, neutral textures, and a matte sheen for all peripheral elements. Once again with light on our side, we highlighted focal points using bold, contrasting finishes. These elements would direct the eye on an intentional journey around the room, whether it be the high-gloss lacquer on the curved islands, the dark metallic shimmer of the impact logo walls, or the warm glow of the brushed brass detailing.
Tad: Unique to Nuevo are freestanding touchscreens for each collection, so our visitors can learn and explore the features of each new home collection. Also, the exterior and the interior of the trailer are wrapped with black commercial grade steel windows; which really bring the outside IN, and visitors can view the different home collections from within the sales studio. Lastly, the sales studio design includes 12 individual gathering areas where visitors can enjoy and learn about Nuevo in a comfortable and welcoming environment.
Marketshare and SummerHill Homes have created award winning sales environments for many years. What made Nuevo a Nationals Gold Award winner was the winning formula: collaboration, innovation, and immersive design.
Let's get you to gold. Contact Marketshare for a complimentary consultation.
---
See more photography of The Nuevo Sales Studio on Marketshare Media
See the video of The Nuevo Sales Studio.
---
Marketshare collaborates with the best teams in the homebuilding industry. Our passion and commitment come through in every design, interaction, and completed sales environment. Our capabilities include design, fabrication, assembly, and staging of sales centers, design centers, and marketing spaces.