Great Looking Signs = Great Looking Builders; Marketshare Printing
by Stephanie Canfield
---
"In our industry signs not only function to direct and inform but represent the builder. We never cut quality to cut costs. W

e make sure the signs look great so the builders look great."

— Daniel Cruz,
Printing/Production Manager at Marketshare
---
EMPLOYEE SPOTLIGHT:
DANIEL CRUZ, PRINTING/PRODUCTION MANAGER
"I originally went to school for graphic design which now helps me as a print production manager. It is extremely important to have an eye for color and detail to ensure a quality product. I'm also a perfectionist so I really focus on the details. I take pride in my work for Marketshare. I make sure the printers are maintained consistently so we can run them 5 days a week with no issues. The maintenance on the equipment is so important because it effects the finished product."
MARKETSHARE'S MISSION
"In our industry signs not only function to direct and inform but represent the builder. At Marketshare we focus on quality and details. We make sure the colors are correct, the art is accurate, the signs are made with quality materials and printed with quality ink. We follow that up by attaching the sign to a well designed and built structure. We never cut quality to cut costs. We make sure the signs look great so the builders look great."
---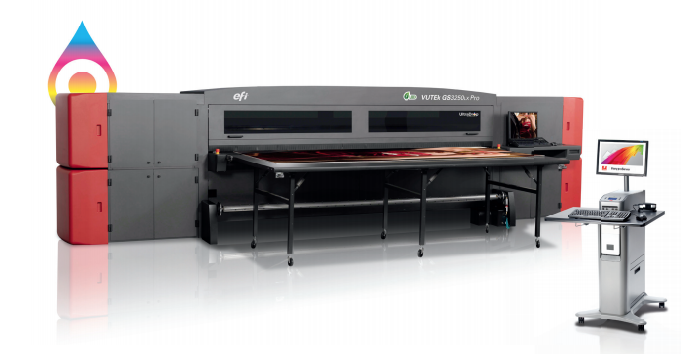 ---
Marketshare Printer VUTEk GS3250LX

Pro Explained
According to the developer EFI, the VUTEk GS3250LX Pro is versatile, efficient, cost-effective, and environmentally friendly. It is a fully loaded, production-level LED hybrid flatbed/roll-fed printer with innovative LED curing technology and grayscale 7pL UltraDrop Technology. The VUTEk reduces waste with consistent color output and simple operation and is a "greener" print solution with low VOCs, lower power consumption, and less waste and consumables.
STATE-OF-THE-ART & ENVIRONMENTALLY FRIENDLY
"Marketshare uses the VUTEk for 80% of our print jobs." explains Cruz. "We print directly on substrates like aluminum, brushed aluminum, PVC, Gatorfoam, and sometimes even wood. Marketshare uses the VUTEk to print interior graphics like area maps, lifestyle photography and plot maps. The VUTEk is also used to print outdoor signs including 4x8's, 5x10's, 10x20 folding signs, pole signs, path finders and more."
The VUTEk is an LED printer which means it uses a light-emitting diode (LED) array as a light source in the printhead. LED printers emit far less heat so the surfaces and types of materials on which they can print is unlimited. According to EFI the VUTEk uses, "Brilliantly designed "cool cure" LED technology. The ink is acrylic, water-based, eco-friendly as well as waterproof. With the VUTEk printer, Marketshare can print large format up to 5x10 sheets and banner rolls that are up to 10' wide x 164' long.
"Another great feature of the VUTEk is that it can print white ink. Many other machines cannot. It's a nice feature for specialty printing. When we print on clear acrylic we can have white ink when needed in specific areas." says Cruz.
---
Marketshare Printer HP 360 LATEX Explained
The HP360 Latex is not solvent based, making it more eco-friendly. The HP360 can print up to 60" wide. Marketshare uses the printer to print large format vinyl wall murals, perforated window clings, banners and more.
INK & COLOR THAT LAST
"After printing, the vinyl is protected with an SUV over-laminate. " Cruz explains, "The ink and the colors will last up to 7-8 years outdoors. Marketshare also prints banner flags. Because they are 8' high and get hit by the sun all day we use the HP to print them. This ensures the ink and color will last longer - up to 3 to 4 years- outdoors. Currently, our banner and vinyl business are booming so soon Marketshare will acquire an HP365 as well. That should be fun!"
Finishing touches? Marketshare uses a CNC Router which cuts a wide variety of materials to any shape. The machine produces exceptional results quickly, hour after hour. Check out the video below and prepare to be mesmerized.
---
Marketshare collaborates with the best teams in the homebuilding industry. Our passion and commitment come through in every design, interaction, and completed sales environment. Our capabilities include design, fabrication, assembly, and staging of sales centers, design centers, marketing spaces and signage.